· PHILOSOPHY ·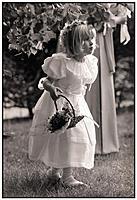 Your wedding day will be full of many wonderful moments which, through photography, you can cherish forever. As a wedding photojournalist, I'm your storyteller, an observer with a camera etching history on film.
My mission is to capture and preserve the moments which make your day special; all the love, joy, beauty, smiles, tears, and the energy which is created during such festive occasions.
Rather than assuming the role of a producer and controlling events, I unobtrusively and quietly document my subjects, who are essentially unaware of my presence. I have found, during over three decades as a photojournalist, that this is the most effective way to make compelling images reflecting the essence of an event.
Although I work in the style outlined above, I also shoot the traditional groupings. I'll do as many or as few as you wish and try to do it in an efficient and timely manner to maximize your time with your guests.
I strive to make these pictures in a lively and visually interesting way. I arrive early and stay late striving to document the entire story. My shooting is unlimited and I'm always working. I've learned this ethic is mandatory to comprehensively telling a complete visual story.
---
CLICK HERE TO BROWSE THE PHOTO GALLERIES
CLICK HERE FOR MORE INFORMATION ABOUT CARL WALSH - PHOTOGRAPHER
CLICK HERE TO VIEW THE EDITORIAL PHOTOGRAPHY FROM CARL WALSH
---
· REVIEWS ·

since i've worked in maine as a journalist for 25 years, i knew carl walsh's work - and knew he was a talented photographer adept at getting beautiful, candid portraits in a short amount of time. But since David and I only had an hour for our outdoor wedding ceremony before our dinner reservation, I was not expecting carl to deliver so many incredible images. Chiefly because Carl faced other challenges at our wedding. to start, we got married during covid-19 in a very small wedding in which we had to keep David's 84-year-old mom safe by social distancing from her and by keeping her away from other beach goers at Kettle Cove. On top of that, our sweet oceanside ceremony had a gusting wind - so my hair was often in my face! But looking through Carl's photos of our wedding, you don't see any of that - just dozens of tack-sharp images of beautiful moments filled with tenderness and laughter. He turned our special day into art. And he did so seamlessly, quietly, confidently, and with a kind, happy spirit. Deirdre Fleming stires
A true professional, Carl is uniquely sensitive to his surroundings and remarkably capable of conveying the emotion, action and momentum of an event.Though his presence was completely unobtrusive, he somehow managed to capture each moment as an intimate observer. If you are impressed with the samples of his work, you will likely be very pleased with your decision to collaborate with Carl on your special day.
-Tanya & Ben

We spent all weekend absolutely transfixed by reliving the wonders of the wedding through the brilliant photo journal you produced. What we found so magical was that you captured the true essence of the event-all the love, joy and happiness that filled us all: the smiles, the tears, the energy, the action. It was all there and you documented it so perfectly. The photos will help us relive and cherish the memories forever...thank you!
-Maura & Steve

Carl was absolutely wonderful. All one needs to do is check out his website to see just how far above the rest he is. On the day of our wedding,he captured all the great moments, while not interfering at all. If it were not for all the great pictures, we'd have forgotten he was even there.
Hala & Carl

Carl Walsh is a fantastic photographer with an amazing eye and a true knack of capturing your wedding story in pictures. The moments that he captured during our wedding will live forever because of his creativity and care.
-Bridget & Burke
Carl is a great photographer. Great eye, very professional, hard working. Carl is also one of those photographers who can make excellent photographs in ANY lighting situation, a key for great wedding photos.
-Susan & Kyle